We are a team of professionals who specialize in residential real estate in the Chester County and surrounding areas, selling 200+ homes per year. We understand and appreciate the sizable investment involved in this type of transaction, and are experts in the intricacies and challenges that must be navigated to successfully buy or sell a property.
We are passionate about this business which has given us much success and a deep sense of fulfillment over the years. And we let this passion drive us in helping our clients achieve the best possible outcome in their transactions. We will guide you and be at your side throughout every stage of the home-buying or selling process.
If you're buying a home, we will help you identify the properties that match your needs and preferences and take the right steps to ensure you close the deal. If you're selling, we know how to effectively market your property to the right buyers, and help you get the best possible outcome from the sale.
The Dickerman Team's Statistics for the Last 12 Months
10
Represents the Average Days on Market for our Listings Sold in in the last 12 months.

The average Days on Market for all of Chester County is 18.
104.6%
Represents our list to sale price ratio: Our listings sell for 104.6% of list price.

Chester County average is 99.4%
145The number of Clients we have helped in the last 12 months CLOSE on a home or go UNDER CONTRACT
220Represents our goal for number of families we intend to help buy or sell a home in 2023
– Named Top 1,000 Agent in US by Wall Street Journal –
– 100 Most Influential in Real Estate in PA by Real Estate Executive Magazine –
– #1 in Sales Units in Chester County –
– 5 Star Realtor Award by Philly Magazine –
Picture Perfect
Choosing an average agent who is limited in resources & unable to properly showcase your home is detrimental to ANY marketing strategy & will cost you thousands.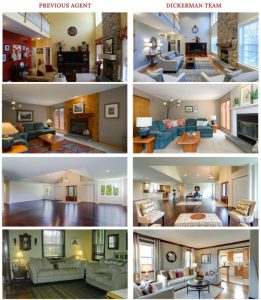 Marketing Plan
We apply a complete strategy in our proven marketing plan to the listing and marketing of your house. Our goal is a quick sale for the maximum market amount. This involves proven techniques that leverage the opportunities to showcase your home.
PRICING
Our # 1 goal is to help you set a competitive price that will position your house well against the competition while netting you the most money possible in this market. Pricing your home well can mean the difference between "ON the market" versus "IN the market".
STAGING
We will guide you in staging options for your home in order to showcase features that buyers are most interested in; uncluttered rooms and closets, fresh paint, and pleasing drive-up appeal are a few examples.
HIGH QUALITY, PROFESSIONAL PHOTOS
While some agents will take low quality photos, we will maximize your home's visual appeal by hiring one of the area's most well-known, professional photographers who specialize in photographing residential homes – your home will stand out from the crowd.
FACEBOOK AND SOCIAL MEDIA
Your house is advertised throughout social media on a regular basis. We are trained in advanced Facebook Ad Targeting strategies where we create custom ad campaigns to target potential buyers based on location and demographics.
INTERNET MARKETING
We specialize in online marketing. Your listing will be on every major and minor real estate website, including www.DickermanTeam.com. Since 89%+ buyers start online, and ultimately even find their home online, you will want your listing agent to have an in-depth knowledge of where buyers search for homes and what strategies are needed to make sure your home is seen and stands out.
TARGET MARKETING TO AGENTS
96% of Qualified and Motivated Buyers work with a Buyer's Agent. We target market your listing to the other top agents and Buyer Specialists in the area. We are active members of the Real Estate Community and just as we value our reputation with our clients and the community, we equally value our reputation with other Realtors. This ensures other Realtors enjoy working with our team and therefore are excited to show and sell our listings.
JUST LISTED BLASTS
initiate a 'Just Listed' email blast to over 3,500 people in our sphere of influence, to top-performing buyer agents in the area, & to our past and present clients – your home will be announced as the market's "new arrival" to the community.
FULL TIME TEAM
Every person in our team is full time, including a Specialized Listing & Marketing Director to answer your questions at all times, enhance the marketing, and strategize marketing plans depending on your property and timing on market.
MLS MARKETING
Optimize your home's internet presence by posting it on local MLS systems and adding maximum photographs and creative descriptions, which means MAXIMUM exposure to local agents.
WWW.YOURCHESTERCOUNTYHOMESEARCH.COM
Feature your home on our exclusive website – www.yourchesterhomesearch.com – an exclusive licensed buyer lead website that covers all of Chester County and surrounding areas. It has generated more than 4,000 meaningful buyer leads to our Team since the Fall of 2008. We proactively market your home to these active buyers by using custom campaigns to match your home's pricing, location, and features with other homes they have shown interested in. Please visit our website!
YARD SIGNS
Place FOR SALE signage with enhanced VoIP telephone # – we subscribe to a high-end phone system within our sales team that allows the buyers calling on your sign to reach one of our agents 24/7 in order to get information and schedule a showing on your home. 51% of buyers search for homes by driving around searching for "FOR SALE" signage. We make sure that a high-quality, legible sign is in your yard with our phone number (except in communities where signs are not permitted).
Listing Syndication